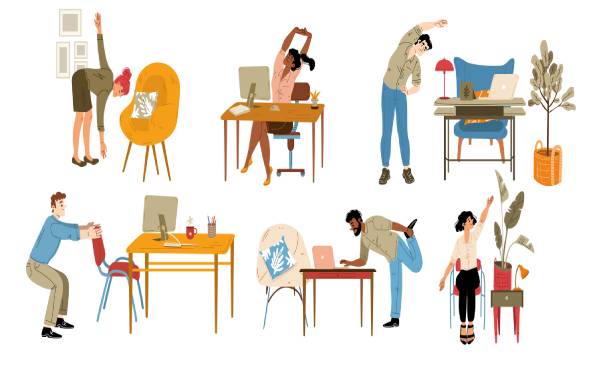 If your neck and shoulders ache after a 9-5 shift everyday, you're not alone. All of us face it every now and then. Desk-bound jobs can have serious effects on your health that go deeper than just neck and shoulder aches. Sitting for long hours and being physically inactive puts you at the risk of obesity, diabetes, heart diseases, eye strain, back pains, and much more. It hampers your mental health too. But don't lose heart yet. You can tackle this in some easy ways. We present to you simple desk exercises that help you stay fit and productive at work.
Stretch It Out
Stretching is the best way to release your bodily stress. Stretching protects you from any health issues that are likely to be caused by physical inactivity. At least once every hour, stretch out your neck, arms, waist, back and legs. This loosens up your muscles and your body will feel much relaxed and tension-free.
Desk Push-ups
Stand up. Go two steps back from the desk. Keep your feet together, lean forward on the desk and press your hands against it. Make sure your hands are shoulder-width apart. Push your chest towards the desk. Now push back. That's it. Now repeat it 15 times. It builds your upper body strength and improves posture.
Neck Rotations
Neck is probably where you evidently feel the tension and stress from sitting down and typing away on your laptop for nearly 9 hours straight. You can quickly relieve it with some simple neck rotations. First, sit in your chair and bend your head forward. Rotate your head slowly in a clockwork motion and then anti clockwork. Now repeat this 5-10 times and see how your neck feels better.
Shoulder Rotations
Crouching over a desk all day everyday puts a lot of tension on your shoulders too. Shoulder rotations can help relieve some of that pain. Rotate your shoulders forward and then backward, both clockwork and anti clockwork. Repeat this 10-15 times for relief.
Tricep Dips
Before getting into this one, make sure your chair/desk is stationary or doesn't move around when you use it as a support. Stand in front of the chair with your back to it. Put your palms on the verge of the chair. Bend your elbows and lower your body towards the floor till your elbows are parallel to the floor. Go back up again and repeat at least 10 times.
Under-the-desk Leg Workout
Sit straight in your chair. Your feet should be flat on the ground. Now lift one leg and straighten it till it is parallel to the floor. Hold this position for nearly 10-20 seconds. Move the leg slowly back and repeat with the other leg. This makes one cycle. Do 5-10 cycles. This is a good cardio workout that keeps your lower body fit.
Squat Hold
Stand with your feet shoulder-width apart. Put your hands behind your head. Now, bend your knees to the ground. Also, push your hips backward. Lower your body until your thighs are parallel to the ground and hold this position for 10 seconds. Now go back to the starting position. Repeat this 10-15 repetitions.
Take A Small Walk
We understand that it might not be possible to step outside of the office, but you can step out of your comfort zone a little. Get away from that chair for a while and take a short walk in the corridor, campus, floor, whatever works. You can also walk around when you are on calls. Walking keeps you fit and acts as a quick stress-buster.
No To Elevator, Yes To Stairs
Be it your office or home, if there is a staircase, just go climb it. This is an excellent workout that works wonders for your heart and body. Staircase climbing helps you burn double the calories in half the time than when you run and thrice more than walking.
Benefits of desk exercises:
Busy with daily meetings and tight work schedules, we often fail to take care of our health. Nevertheless, these exercises help you manage your stress levels; improve performance, focus, productivity, and creativity; reduce sedentary time; improve mental health and mood and help you sleep better. Without a doubt, you will be better able to deal with people. Give these exercises a try to see the difference yourself!