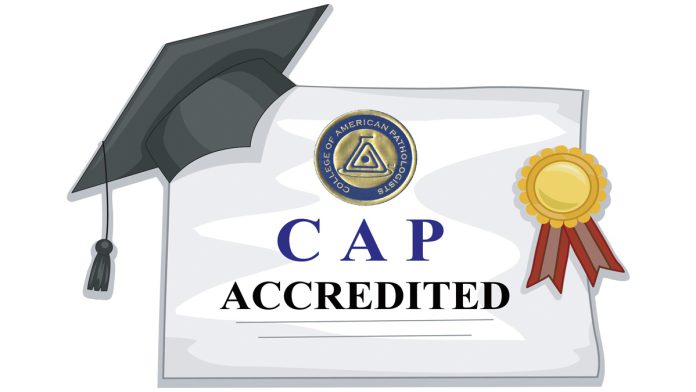 CAP is the International Quality Crown… Those who seek Quality, have no boundaries!
What is CAP?
CAP or College of American Pathologists is a laboratory accreditation program that certifies an entire list of laboratory tests based on a scope and checklist developed after rigorous scientific assessment. Covering a large array of medical tests and procedures, any setting from a diagnostic laboratory to a medical professional's clinic can apply for their certification program.
"International is Elite" is always the common man's notion; nothing wrong if it attributes some standards. Quality has always been a coveted aspect and for brands, an international certification definitely adds to the matter of pride. Following international standards in quality of service or product is never a one-time appreciation, but a promise placed to continue working on the existing Quality Management Systems (QMS) to provide the best and in healthcare, this "best" can greatly impact patient/client outcome.
For a diagnostic laboratory confident in its quality standards, accreditations or certifications acknowledging the same becomes the most transparent mode to garner trust. One such international quality certification board is the CAP.
CAP Facts
CAP15189 established in 2008 is the quality management program that provides accreditation to ISO 15189, an international quality standard for medical laboratories.
The multidisciplinary team consists of highly experienced professionals with practical knowledge of medical lab as well as ISO quality system audits.
The lab inspection is scheduled every two years and the interim period needs the participating lab to report on the results of proficiency testing provided by CAP.
Apart from quality management, it also scrutinizes chemical hygiene plans, document control processes, test validations, competency outcomes, etc.
Why CAP
Highlights eligibility of the lab in terms of professionals on board like a qualified lab director, and its participation in proficiency testing as well as external quality assurance programs
Increases value of the organization/laboratory
Promises accuracy in testing and ensures accurate diagnosis
Improves customer satisfaction
For a country with a population of billions and diagnostic laboratories being a very lucrative business option in healthcare, it is necessary for us, a common man to do our due diligence.
"Diagnosis does not start once the blood is in the tube… But when you chose who should prick you"